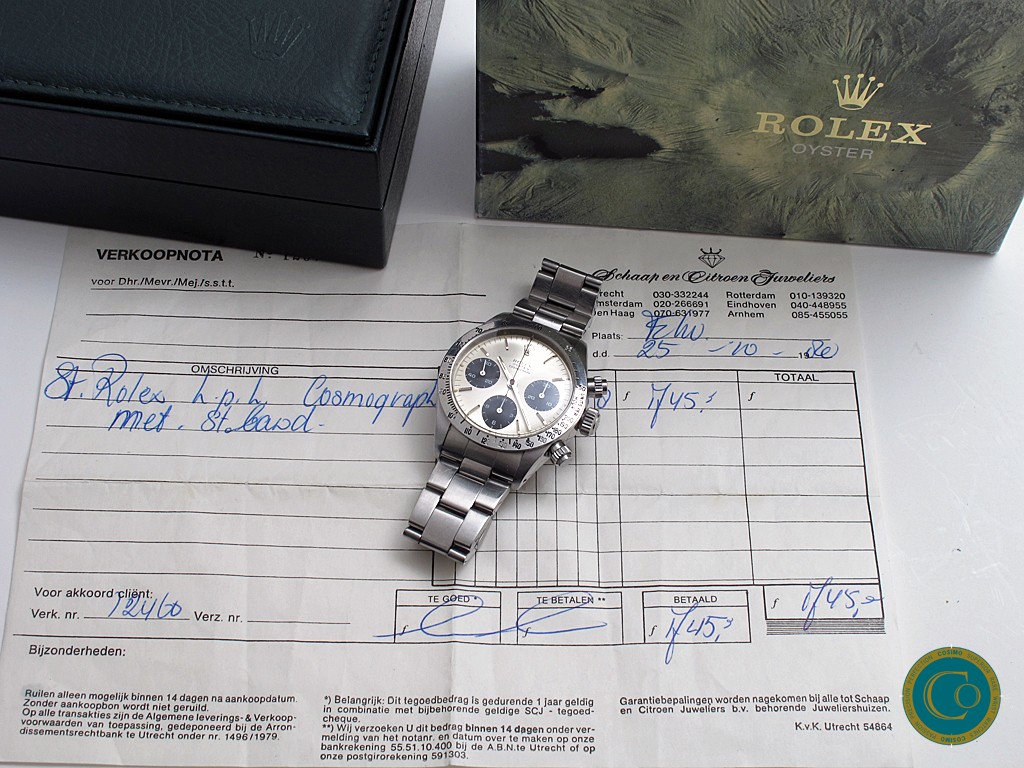 First owner Rolex 6265 Oyster Cosmograph Sigma dial in super mint condition!!!
first owner untouched Rolex 6265 sigma dial ( best one I have ever seen!!!)
It comes with the original box and invoice.
The watch is sold new by Schaap & Citroen in the Netherlands 
This watch has sitting in a draw for the last 30 years, because the feder was broken.
It is in super mint unpolished condition
Movement has been service, and all seals are replaced  by my watchmaker 
It was open for the first time, and was never touched before.

The watch is from 1977, it is late for a sigma dial  but this dial is different then the normal sigma dial .
the serial is correct for a Big Red sigma dial serial 52XXXX.
This dial has the same characteristic's as a big red (sigma) dial.
Same fond and same finishing of the sub dial.
Sub dials of a normale sigma dial have a matt (grenee) dark grey finish 
Finishing of a Big red (sigma) dial have a more glossy finish.
And the color is almost dark blue ore even purple if you take it in the sun
Exact the same as this watch
So this dial is a big red sigma dial with out the big red Daytona text on it
Only have seen a couple off these in the last 20 years, very rare !!
 
import taxes & import cost are the expense of the Buyer. 
NOTE: All our watches are bank stored and can be visited with 1 to 2 days processing time